MEET YOUR STEWARDSHIP TEAM
Stewardship Team 2019 is 10 members strong!
Left to right: Walter Impert, Frances Impert, Greg Dilger, Chey Widdop, Mark Ehrhardt, Oralia Van Leuven, Larry Nash, Leonora Pratt and Felix Racelis, and Ashley Leary (not pictured). Individual photos below along with personal statements.
SAVE THE DATE:
NOVEMBER 23, 2019
ANNUAL CAMPAIGN DINNER
Passed appetizers in the Garden at 5:30 pm | Seated dinner in Parlour Hall at 6 pm
Fall Home Gatherings
Five different Home Gatherings hosted by Stewardship Team members will take place between October 18 and November 10 prior to the Annual Campaign Dinner on November 23. Sign up for a Home Gathering and get to know parishioners better. Space is limited so sign up soon!
A Message from the Rector
For over 15 years now, The Circle of Grace has been the foundation of our parish's stewardship conversations. Truly, it is the experience of those of us who practice intentional stewardship that Grace begets Gratitude, Gratitude begets Generosity, and that Generosity begets yet more Grace not only in our lives but also in the lives of others.
As Bishop Bruce is fond of saying, All that we are, all that we have, and all we do is a gift from God, and it's meant to be shared. Such a grace-filled gift calls for a generous and grateful response. My thankfulness to God certainly informs my giving, but even so, my stewardship is not just a matter of returning to God a portion of God's generosity to me. No, there is more. In Christian giving, I believe myself to be living into what God has created me to be, at least in part. By nature, I am not a particularly generous person; by grace, I pray that I am learning Christian generosity. Such generosity is of the image and likeness of God revealed to us in Christ Jesus.
There is a real recklessness in God's generosity. In God there is no holding back, no reserve. God's generosity is without condition and total. Each of us is offered the opportunity this fall to make, in faith, a pledge for next year. I invite you to look at the crucifix hanging in the crossing in our beautiful church and to see there God's generosity poured out for you. Then as you leave the church, look up and behold Mary holding her child who is looking at you with all-knowing love and blessing, and thereupon base your response.
All of our ministries—liturgy and music; children, youth and the preschool; community life; outreach—make ours a church where we can experience and respond to God's limitless love. The goal of deepening our own discipleship, growing our program offerings, and extending God's grace into the larger community and the world cannot happen unless we take seriously the spiritual implications and responsibilities of Christian stewardship. I encourage you in the coming weeks to reflect on grace, gratitude and generosity as we enter into the stewardship season and I hope you will save the date of November 23 for our Annual Campaign Dinner. Invitations and pledge cards will go out from our Stewardship Team at the beginning of November.
Peace and all good,
Mark+
Associate for Community Life—Communications, Pastoral Care and Stewardship
Beginning Sunday, October 6, there will be a Stewardship Table near the Welcome Table each Sunday until November 17 with a different team member(s) there each week. A reflection from that team member will be featured in the e-blast and bulletins on the Sundays they serve at the table. Take moment and stop by to say hello and get to know these parish members who have said yes to serving the parish by telling the story of what The Circle of Grace at Saint Mark's means to them and why they continue to give back to this parish.
With gratitude for the blessing of working in such a grace-filled parish,
-Chey
We attend Saint Mark's Episcopal Church because it is the best place that we have found for our family to worship and grow together in Christ. It meets our daughter Mary's need for Sunday school and a Christian education. For Jeff and me, it brings us together as we participate in the Mass, volunteer for Coffee Hour, and are seen as members in this warm and diverse community of worshipers. We are here to commit ourselves to this church in gratitude for the gift of our lives and that of our daughter Mary through the good work of Holy Family Adoption Services located at the Episcopal Cathedral Center in Echo Park. We wouldn't have had the same wonderful opportunity to adopt such a loving and energetic daughter as Mary without the kindness, instruction and guidance of Holy Family. We were introduced to Saint Mark's by John and Curtis Schwab-Sims who have a daughter, Evelyn, who is the same age as Mary. They have known each other since they were 3 months old, when we all first met while attending Saint Thomas the Apostle in Hollywood. Mary and Evelyn consider each other sisters and enjoy Sunday school worship together.
-Greg
I immigrated to the United States of America with my Family as refugees from Freetown, the capital city of Sierra Leone, due to the Rebel war of the late 1990s (depicted by the film, "Blood Diamond"). Sierra Leone is a small country on the west coast of Africa, with a current population of 7.8 million people. My family was fortunate to be one of the 40 families that were granted resettlement to the USA.
My very first home church was Holy Faith Episcopal in Inglewood. All Saints Episcopal became my church home when I moved to Eagle Rock and I found Saint Mark's on the internet, when I moved to Glendale in 2015. Upon visiting I was warmly welcomed by Monique Poon and by so many others and for that I am very grateful. The familiar way of worshipping together with others was comforting. Since becoming a member of the church, I joined the Saint Lawrence Guild and became a member of The Order of The Daughters of the King (DOK). I am honored I was invited to serve on the 2019 Stewardship Team to be able to give back to this parish and experience the Circle of Grace more fully.
-Leonora
Felix Racelis and Larry nash
A few years ago we were looking for a new parish. Being a librarian (i.e., information specialist), Larry discovered Saint Mark's online. We've now been attending for several years and have discovered a warm, welcoming community in which we feel at home. When we come to Saint Mark's we feel centered and focused. We return each Sunday with gratitude because we find that attending enriches our spirits and helps us face the remaining six days of the week. Life today is very fast-moving, with institutions and social networks disappearing daily. We truly appreciate the stability of the familiar and sacred traditions we experience here at church. Looking back on our lives, we also realize that we have been blessed with many gifts and we feel moved to try and pay some of it forward as best we can, such as serving on the Stewardship Team and through other ministries at Saint Mark's.
-Larry and Felix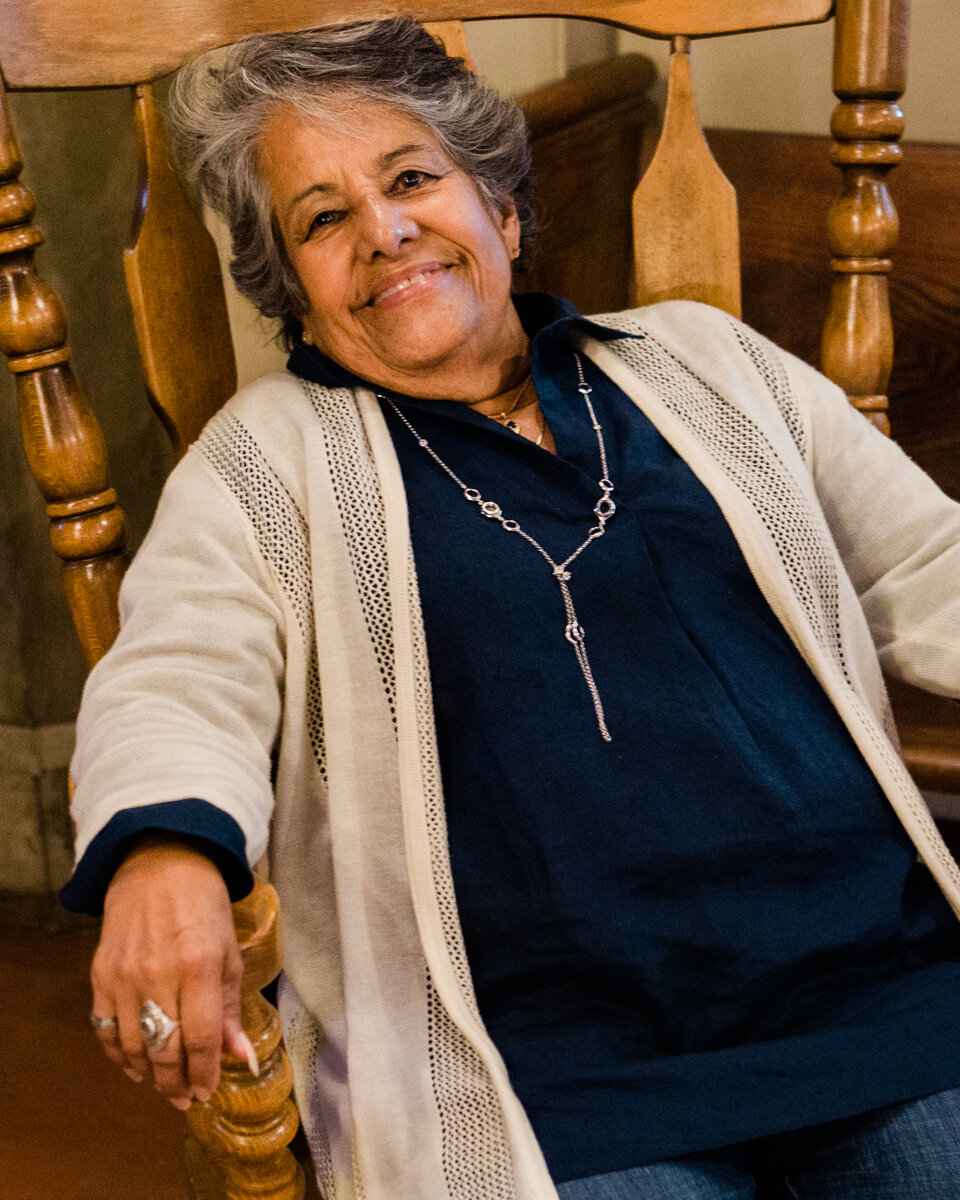 I moved to Glendale after living in the West San Fernando Valley for 45 years and attending Prince of Peace Episcopal. I met Father Bill Leeson at All Saints Highland Park (who is now a retired priest helping at Saint Mark's) and he recommended Saint Mark's as a closer and more accessible place of worship. I am so glad he did! I found a service that I love—8am Rite I mass on Sunday. I found the gratitude I could express for so many gifts that God has given me. I found the grace and love that feed my soul. I found Saint Mark's to be very much as described by others I encountered—warm, welcoming, open. Here I met Father Anderson, a priest who helped at Saint Mark's in his retirement and who is now among the heavenly hosts. He would greet me by name and always hug me. Everyone would say hello and invite me to coffee hour, though I was never able to attend due to the complexities of my job. I felt very much at home, though, and hoped that once I retired I would be able to help more. Then I met Monique Poon and when I told her I was retiring she offered all kinds of opportunities! She was exceedingly persistent until I joined Saint Laurence Guild. Things got even more complicated once Deacon Susie and Monique got together and I've been here ever since experiencing gratitude every step of the way.
-Oralia
francis and walter impert
We have been faithful members of Saint Mark's for almost 18 years, knowing right away after attending our first service that this was the church for us. We remember how friendly and welcoming the clergy and members were, the beautiful service and setting, and of course the glorious music…. all of which continue to this day!
For me, Frances, this quickly became a wonderful place of community, especially after I joined the Saint Laurence cooking guild when it was first formed. Preparing and sharing meals with fellow guild members and parishioners brings me much joy. Later, I started to volunteer as occasional guest chef for Ascencia, cooking alongside my husband and daughter and extended family, friends, and church volunteers. I have always loved cooking and entertaining, but it was through these experiences that I have come to realize this is indeed my true personal ministry, and for this, I am grateful and feel blessed to be a member of Saint Mark's.
For me, Walter, this is more a place to go to escape the daily drip drip drip of noise, from freeway traffic to "talking heads," jabbering on cable news shows. It is a sacred space, not unlike an art museum, a hallowed space to escape the inanity and to focus on the spiritual, the eternal, to that which was before us and to that which will be after us. The ritual and the heavenly music create a deep and enduring atmosphere for prayer and quiet introspection.
-Walter and Frances
I have been a member at Saint Mark's for more than 25 years. I am originally from Cincinnati and came to Los Angeles in 1984 because I was recruited by NBC-TV News to help with broadcasting the 1984 LA Olympics. Following my career at NBC, I served as engineering manager for large technical projects at Fox Sports Network, Paramount Studios, and Direct TV. I have lived in Burbank for 35 years and I serve as Chairman of the City of Burbank Transportation Commission and as a volunteer for mass casualty and disaster preparation and planning for Providence Hospitals in the San Fernando Valley area.
I am currently serving my second term as a Saint Mark's Vestry member and as the People's Warden. I coordinate the ushers and greeters for the Sunday 10 am mass. Saint Mark's is a place of welcome and refuge to many people every day of the week, and I am proud we are known throughout the city of Glendale as the church with the open doors. I am grateful to welcome those who are here on Sunday and I hope they are as personally touched as I am by the liturgy and the excellence our music program.
I am also very happy to be serving on this year's Stewardship Committee where I have an opportunity to share the Saint Mark's message of Grace, Gratitude and Generosity with others.
-Mark
I am grateful to Saint Mark's because of the welcoming sincerity and inclusiveness, the kindness and friendly vibe of the congregation, for the familiar and spiritual ceremonial rituals, including incense, music and chanting, and the benevolent message of Jesus and internal life and love.
I grew up Roman Catholic in New Orleans, but attended Trinity Episcopal from nursery to 8th grade where I went to chapel every morning. I felt more comfortable and at home in the Episcopal Church and want that for my 6 year old twins, Chloe and Lucas.
I am grateful to have been asked to serve on the Stewardship Team and hope to get to know many of you through service to the parish.
-Ashley